The Melting Sea is the bear term for Hudson Bay. It is where Kallik and Taqqiq were born.
During the winter, it is frozen over and the polar bears live on it, while in the summer the bears leave it and live on land until it freezes again. It has been melting earlier and earlier every year due to humans making the sea warm up, causing the ice to melt. Orcas and seals also live in the sea.
Polar bears are the only kind of bear to live there, as other bears are not capable of surviving in such cold climates.
History
The polar bears at Great Bear Lake come from the Melting Sea.
Taqqiq mentions he'll try to return to the Melting Sea eventually (which he does).
Kallik is certain the island is close to the Melting Sea, and is very happy to return.
This book takes place at the Melting Sea. There are many more polar bears living at the Melting Sea that are introduced in this book.
Places
Known Bears at The Melting Sea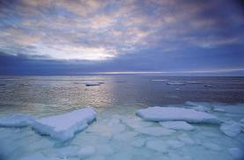 Other Animals
Trivia
Ad blocker interference detected!
Wikia is a free-to-use site that makes money from advertising. We have a modified experience for viewers using ad blockers

Wikia is not accessible if you've made further modifications. Remove the custom ad blocker rule(s) and the page will load as expected.